Joe Burrow is More Fluke than Number One NFL Draft Prospect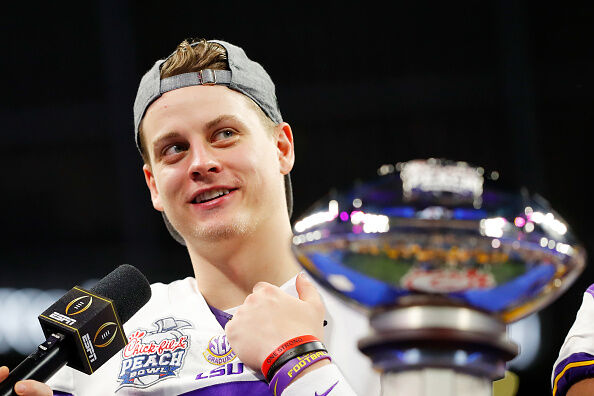 Colin Cowherd: "Bucky Brooks' quarterback rankings were the exact order I would put them in. Tua number one, Joe Burrow number two, Justin Herbert number three, Jordan Love number four, and Jacob Eason number five. You realize until mid-November EVERYBODY had Tua over Joe Burrow?? But what happened was this 'Perfect Storm' – Nobody will admit this but he had a PERFECT STORM. LSU rolled the dice on a coach from the Saints named Joe Brady and Brady ended up being a perfect fit. LSU's offensive line was ranked the number one offensive line in the country this year. They had a star running back and two star receivers, and a good tight end. They also played Tua when he was only about 60%, and they got to play a National Championship as a home game in New Orleans. It was a PERFECT Storm for Joe Burrow. It should be noted, he was a fifth-year senior… Last year his numbers were average, and he's an older quarterback closer to this athletic ceiling. Tua didn't have to wait till his fifth year to be great, he was remarkable at 19 as a true freshman called upon in the national title game against a great Georgia team… Joe Burrow's STORY has leaped his ability."

(Full Audio at Bottom of Page)
Listen to Colin Cowherd discuss a recent controversial Fox Sports segment with NFL analyst Bucky Brooks, as the former Green Bay Packers wideout made headlines on Wednesday when he released his quarterback rankings for the upcoming 2020 NFL Draft, and placed Alabama quarterback Tua Tagovailoa ahead of LSU Heisman Trophy and National Champion winning quarterback Joe Burrow.
There was a good amount of pushback towards Brooks' rankings, as seemingly every 2020 mock draft ever released has Burrow going to the Bengals at number one, as a clear top pick after putting up arguably the greatest offensive season in college football history.
Cowherd, however, agrees with Brooks and says he'd much rather have the next 'Drew Brees', Tua, than a guy like Burrow who had a 'perfect storm' season in 2019, when he suddenly went from average quarterback to Superman with an NFL mind at play-caller, an elite offensive line, lethal backs and receivers, and a season where they played an injured Tua versus Alabama, and essentially hosted the National Championship versus Clemson.
Check out the audio below as Colin details why he'd rather have Tua than a guy in Burrow who had EVERYTHING go his way this year.

The Herd with Colin Cowherd
Want to know more about The Herd with Colin Cowherd? Get their official bio, social pages & articles on FOX Sports Radio!
Read more