Doug Gottlieb Predicts Antonio Brown Will Never Play in the NFL Again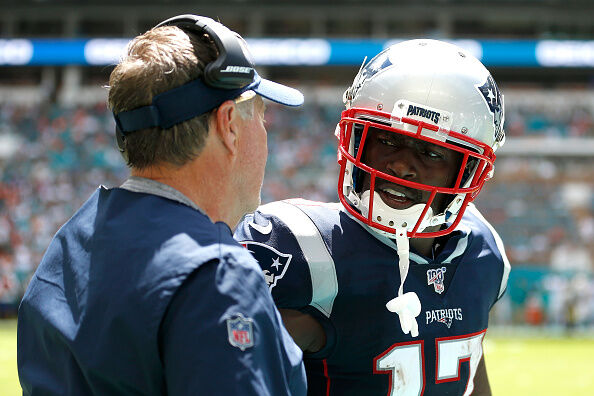 Doug Gottlieb:

"Lingchi: 'DEATH BY A THOUSAND CUTS'. A form of torture that comes from China reserved for crimes viewed as especially severe such as treason. It involved public humiliation, a slow and lingering death, and punishment after death…Antonio Brown was cut today… It's lingchi. A slow, public process, and frankly, he was guilty of treason in both Pittsburgh and in Oakland, and potentially guilty of far worse crimes in New England. I don't think Antonio Brown will play in the NFL again, and I don't think it is one incident that will cause him to not play in the NFL, I think it's death by 1,000 cuts."

(Full Video at Bottom of Page)
Listen to Doug Gottlieb comment on breaking news of Patriots wide receiver Antonio Brown's release by the team, as Brown's tumultuous 13 day run with the team was overrun by one of the worst PR nightmares in league history.
After signing a one-year contract with the team on September 7th, Brown was accused of raping his former trainer three days later on September 10th.
A week later and another woman had come forward alleging sexual misconduct from Brown.
Brown surprisingly steered clear of the abominations to suit up in New England's Week 2 blowout victory over the Miami Dolphins, as he even caught four passes for 56 yards, including a 20-yard touchdown strike from Tom Brady.
The optics deteriorated even more when Sports Illustrated columnist Robert Klemko published a damning article into the shady character of Brown, which then culminated in Brown making disturbing threats to one of the women named in the article.
Check out the audio below as Doug Gottlieb explains why Brown will never play in the NFL again, and says it's not going to be from one incident but DEATH BY A THOUSAND CUTS.

FOX Sports Radio
Want to know more about FOX Sports Radio? Get their official bio, social pages & articles on FOX Sports Radio!